Welcome to the 2023 American Legion State AA Tournament! Best wishes to all players, coaches and fans – HAVE A GREAT TOURNAMENT!
VIEW LIVE STREAM OF GAMES >> Follow Dickinson Baseball Club on Facebook.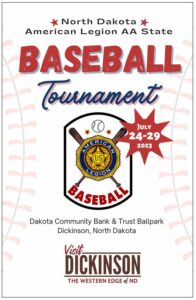 TOURNAMENT CONTACT: Andrew Grafton, Dickinson Parks & Recreation, 701-456-2074, [email protected]
LODGING: For a complete listing of area hotels, please go to >>> https://www.visitdickinson.com/.