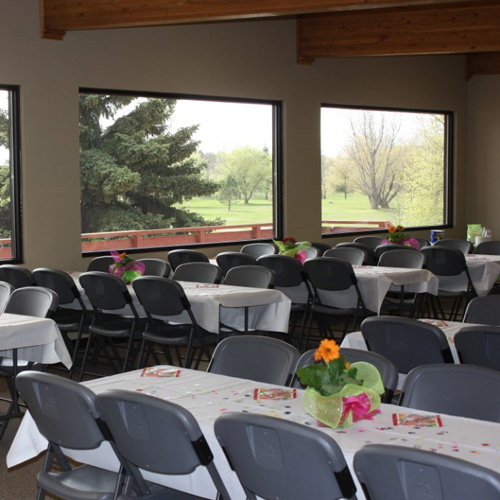 HEART RIVER RETREAT
This rental facility has a great view overlooking the Heart River Golf Course is is located next to Turtle Park and the Dickinson Dike.  This is a great venue for hosting numerous gatherings Birthday Parties, Baby or Bridal Showers, Graduation Parties, Family Reunions, Company Gatherings, etc. 
Capacity is 125.
2475 Broadway W
Dickinson, ND 58601
Contact Information:
Dickinson Parks & Recreation
Ryan Nelson or Alissa Karsky
701.456.2074
Required Permits and Paperwork
Although it may vary, required paperwork will generally include:
Reservation Permit (required)
Payment is due at time of booking.
Certificate of Insurance (if needed)
Alcohol Use Permit (if needed)
Rental Requirements will be discussed at time of reservation
Dickinson Parks and Recreation requires an alcohol sales fee when your event is open to the general public (selling alcohol). All necessary City of Dickinson permits and licenses must be provided.
Cost of Rental
3 Hours: $80 (3 hour minimum)
Over 3 to 5 Hours: $140
Over 5 Hours: $170/Day
Miscellaneous Fees (if needed):

Alcohol Sales Fee = $50/event
Custodial Fee = $20/man hour
If Dickinson Parks & Recreation sees the need for onsite supervision or maintenance, all costs will be charged back to the renter.
Terms of Payment
Total payment is required at time of booking.
If event is canceled, 50% of fees will be refunded.
Our Mission
Our Mission is to enhance the quality of life for the community and its visitors by providing leisure opportunities.