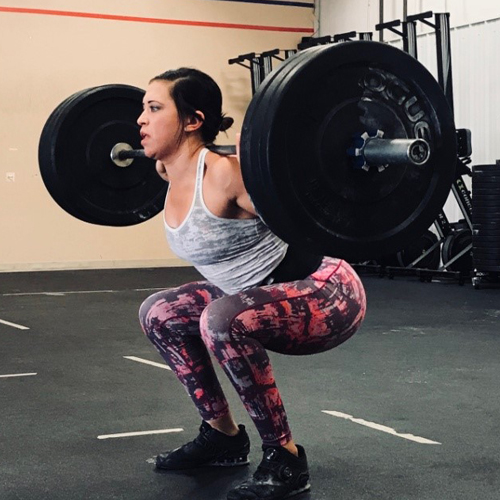 For the month of October, we spotlight Mariah Boese.  Mariah grew up in Golva, North Dakota and moved to Dickinson to attend college at Dickinson State University.  She met her husband, Brady, at DSU and they have been married for 8 years.  They have one furbaby, a dog named Mozzie, and enjoy their time together running, hiking, or anything outside.  Mariah enjoys a good workout with friends and reading while cuddling with Mozzie.  Mariah is a teller at Dakota Community Bank & Trust.
Mariah joined our staff 3 ½ years ago as a spin instructor.  Since then, she has transitioned to teaching a variety of classes, such as Bootcamp, Cardio Circuit, & Circuit Strength.  When asked what she likes best about teaching, she stated, "The things I enjoy most about being an instructor are seeing someone's weakness become their strength, and the sense of accomplishment on people's faces when they finish a kick-butt workout!"  Mariah's classes are always fun & energetic!
Make sure to check out Mariah's classes: Mondays 5:30a Cycle & Tuesdays 5:30a Circuit Strength.
West River Community Center
2004 Fairway Street
Dickinson, North Dakota 58601
Hours: Mon. – Fri. 5:00 a.m. - 10:00 p.m.
Sat. 7:00 a.m. - 9:00 p.m.
Sun. 12:00 - 8:00 p.m.
Telephone: (701) 456-2070
E-mail: dprd@dickinsonparks.org
Amenities
Indoor & Outdoor Aquatic Areas
4 Full Size Gymnasiums
Multi-Athletic Court
3 Racquetball/Wallyball Courts
2 Indoor Tennis Courts
Golf Simulator w/ Driving Cage