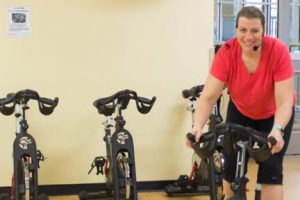 For the month of November, we  spotlight Lisa Ait LafQih. Lisa has been an instructor at the WRCC for over three years.  She started out going to cycle classes and soon fell in love!  She realized she could no longer sit on the sidelines and just participate in classes, so she started teaching and spreading her love of cycle.
Lisa is a Dickinson native.  She moved away to follow her dream of becoming an airline pilot.  She flew airplanes for several years! Lisa and her husband then moved back to Dickinson to grow their little family.  They have one daughter.
Although she has a desk job, teaching Cycle is one of her many passions. Her dedication and love for cycling is contagious.  Lisa loves to connect with the classes and see the joy (and sweat) on everyone's face after a hard class!
Lisa encourages everyone to follow their heart and make the most out of life.
Make sure to catch Lisa's classes: Monday Cycle at 4:30p, Tuesday Cycle at 6p, and Thursday Cycle 360 at 6p.  Lisa also teaches some Saturdays for Cycle & Kettlebells.
West River Community Center
2004 Fairway Street
Dickinson, North Dakota 58601
Hours: Mon. – Fri. 5:00 a.m. - 10:00 p.m.
Sat. 7:00 a.m. - 9:00 p.m.
Sun. 12:00 - 8:00 p.m.
Telephone: (701) 456-2070
E-mail: dprd@dickinsonparks.org
Amenities
Indoor & Outdoor Aquatic Areas
4 Full Size Gymnasiums
Multi-Athletic Court
3 Racquetball/Wallyball Courts
2 Indoor Tennis Courts
Golf Simulator w/ Driving Cage