Our instructor highlight this month is Sharon Wallace.  Sharon has been an instructor with Dickinson Parks and Recreation for over 17 years.  She originally graduated from Dickinson High School and attended college at Dickinson State University.  Sharon and her husband have been married 33 years and have 3 beautiful daughters.  She works full time at Edgewood-Hawks Point in the Life Enrichment Department.  When she's not working, she enjoys coffee with her friends, traveling, and spending time with family.  When asked what her personal philosophy was, she stated, "Don't limit your challenges, challenge your limits."  Make sure to catch Sharon's classes throughout the week and bring your kids each Wednesdays at 9:15 am for Kids Fit class.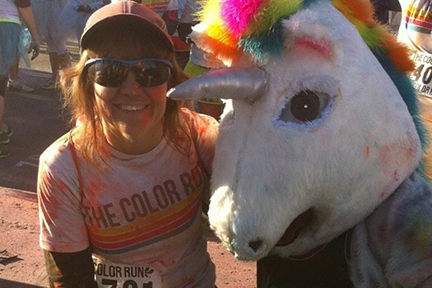 West River Community Center
2004 Fairway Street
Dickinson, North Dakota 58601
Hours: Mon. – Fri. 5:00 a.m. - 10:00 p.m.
Sat. 7:00 a.m. - 9:00 p.m.
Sun. 12:00 - 8:00 p.m.
Telephone: (701) 456-2070
E-mail: dprd@dickinsonparks.org
Amenities
Indoor & Outdoor Aquatic Areas
4 Full Size Gymnasiums
Multi-Athletic Court
3 Racquetball/Wallyball Courts
2 Indoor Tennis Courts
Golf Simulator w/ Driving Cage